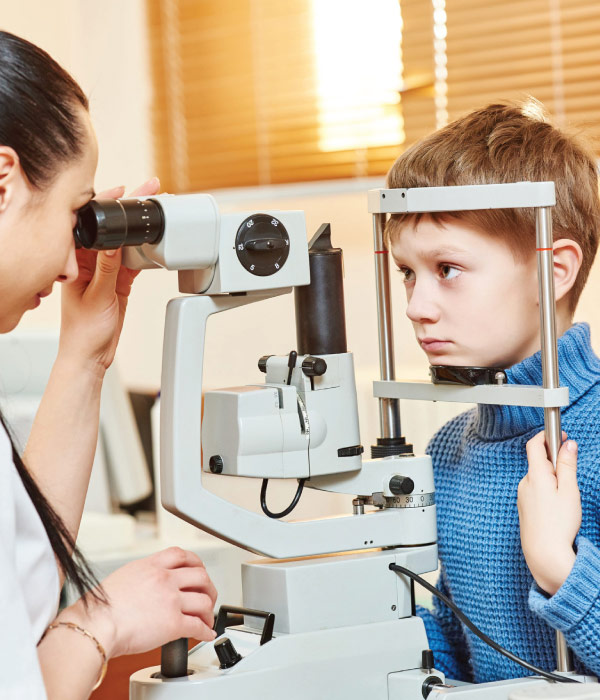 REFRACTIVE ERROR IS ONE OF THE MAJOR CAUSE OF BLINDNESS AND VISUAL IMPAIRMENT IN INDIA. IT IS ESTIMATED THAT ABOUT 150 MILLION PEOPLE WORLD – WIDE ARE VISUALLY IMPAIRED DUE TO REFRACTIVE ERROR AND 75% OF TOTAL BLINDNESS IS AVOIDABLE EITHER BY PREVENTION OR TREATMENT. SINCE THE PREVALENCE OF REFRACTIVE ERROR (ESPECIALLY MYOPIA OR NEAR SIGHTEDNESS) IS QUITE SIGNIFICANT IN SCHOOL CHILDREN SO THIS JUSTIFIES THE SCHOOL VISION SCREENING PROGRAMME TARGETED TOWARDS SCHOOL CHILDREN. MOREOVER MOST OF SCHOOL CHILDREN DO NOT REALIZE THAT THEY SUFFER FROM OCULAR DISABILITY. THIS LEADS TO LOSS OF PRODUCTIVITY AND EFFICIENCY AND ULTIMATELY REDUCED WORK OUTPUT.


SIGNS/ SYMPTOMS OF EYE PROBLEMS AMONGST CHILDREN :
The following signs and symptoms are guidelines for finding out ocular problems in children:
Unable to copy the written matter on blackboard while setting at back seats.
Persistent headache, watering from eyes.
Frequent blinking or squeezing the eyes.
Keeping books close to face.
Adopting a peculiar read posture white watching TV or reading.
Unable to see thing clearly during night.
Unable to tolerate sunlight.
Under performance in studies and competitions.
Misdirected eyes.
Difference in the size of eyes.
AIM OF SCHOOL SCREENING :
The basic premise for undertaking screening is that progresis or outcome of disease is improved by early detection and treatment:
1. Timely detection of refractive errors and their correction by spectacles can tremendously improve the child's potecutial. Moreover regular wear of glasses control the refractive error to some extent.
2. Vitmin A deficiency has a overall incidence of 0.7% in 0-6 year age gf. Therapeutic. Vitmin A supplementation miraculously reverses the Vitmin A deficiency symptoms such as night blindness and eye dryness.
3. The prevalence of squint and amblyopia (Lazy eye) is 4-5% Timely detection before 6-7 yrs of are can prevent a child from developing permanent uniocular blindness in children blindness in children.
Role of Teachers :
Since a child spend most office time of its time in school with his colleagues and teachers so if the teachers are vigilant. The can play a useful role.
1. Every child should undergo through I examination once in a year and its stated should be reports parents during meet.
2. The science and physical education teachers should educate the children regarding eye problems.
3. The child in the class should not be allotted fixed seat rather there seat should be rotated.
4. The teachers should encourage the children who are wearing glasses and prohibit other one from teasing him.
5. If a child is found color blind during routine examination. He can be guided who avoid entering certain professions in futures such has railway, navy fashion designing, artist, painting etc.
Role of parents :
1. Parents should advise to study in well illuminated rooms in sitting posture.
2. Teacher should not be allowed to watch T.V. Computer, more than one hour continuously.
3. Encourage children to have diet rich in fruits, green vegetables, fish, carrot, papaya, mango, egg and milk product.
4. Outdoor activities, physical exercise, morning walk should be promoted.
5. Disallow children from playing with sharp pointed objects such as bow arrow, pencil, pins and games like gulli danda. This can injure the eye.
6. During festival season always supervise children while igniting fire crackers because a slight ignorance can lead to permanent eye loss.